2 subnets on the same interface whitout using vlans?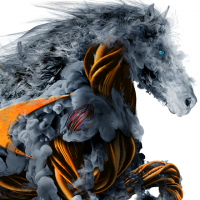 cnuques
Newbie ✭
Hi, thank you for your time in advance.
I am replacing an outdated generic firewall/router and replacing it with a tz-370.
I do not have the freedom or budget to buy any managed firewalls that support VLANs, so the use of them is no option.
I require one subnet, let's say 20.0.0.0/24 to only allow assigning IP addresses to registered devices (either DHCP or not) but I can't assign any static IP on the actual device's OS as they are mobile.
Also, I require another subnet, i,e: 172.17.0.0/23 (it was set like that and a lot of this inherited infrastructure requires it) to freely distribute IP addresses to their heart's content.
These 2 subnets for every related purpose will be using the same interface in the end, as there is only 1, one regular unmanaged switch, and doing rewires, segmentation, VLANs, and such is not possible.
This is a network configuration that has been already running on a CISCO RV-320, for many years now, without issues, and I am just replacing it with a TZ-370.
Yes, I know there should be VLANs that the place must use managed switches, the wiring must be done differently, etc, I know that, but for now, there is no option, any help will be greatly appreciated.
Category: Entry Level Firewalls
Reply
Tagged: