NSa 4700 - 128GB Storage - but not really usable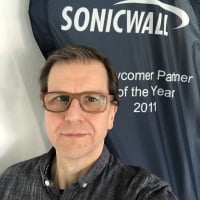 BWC
Cybersecurity Overlord ✭✭✭
Recently I deployed a NSa 4700 which comes with a default of 128GB of Storage Capacity. This sounded great for having some local space for eventlogs, but in reality it isn't usable for that. On any other Appliance (TZ 670, NSa 2700, NSa 3700) I deployed recently I'am able to write the Logs on the Secondary Storage, which the NSa 4700 does not have, because the 128GB is the Primary Storing and holding only a single Eventlog.
So, what do I need 128GB therefore then? Saving dozens of Backups?
Some internals here:
So my Question is, will this be changed or does the customer needs to buy a Secondary (aka Flexible) Storage Module for saving logs locally, a feature we were waiting for years? Needless to say an external Syslog Server is the better option, but this is a different story.
--Michael@BWC
Category: Mid Range Firewalls
Reply