Can someone tell me how to get my 500v to use the new serial number and license I registered?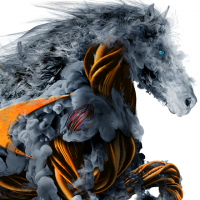 Sdrago305
Newbie ✭
So I was using a free trial of 500v to test it out. It works great for what we need so we bought it.
They sent me a new activation code and serial number. I registered them on mysonicwall.com
I followed the directions that they sent. i went to https://x.x.x.x/cgi-bin/diag reset my license. Tried to reactivate it with the new serial like they claim and it tells me No, I can only use the old trial licenses because it's registered to that. I google and I find https://www.sonicwall.com/support/technical-documentation/docs/sma_100-10-2-getting_started_esxi/Content/sma-gsg-using-the-30-day-trial-converting-free.htm/ . Alright cool I log in to mysonicwall account and try to deregister like it says there. Only option I have is delete for the license not deregister. if I delete the license I'll lose access to it correct? is that the same as deregistering? and if I delete it will it let me register the device with the other license?
I also have asked support about this but I haven't gotten a response and I'm a sonicwall newbie.
Category: Secure Mobile Access Appliances
Reply
Tagged: