GVPN client fails to connect with PPPoE + fixed IP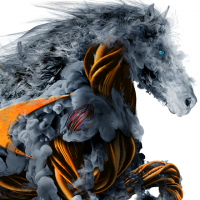 IanJ
Newbie ✭
Hi all,
I'm a real newbie with sonicwall so please be gentle :-)
So I have a TZ670 running the latest firmware 7.0.1-R1456.
The Internet connection is BT Infinity FTTC & I have multiple fixed IP addresses assigned by BT
The Internet connection is allocated a dynamic IP at the time the TZ670 connects, with the fixed IP addresses routed over that connection
I have set up the X2 interface to successfully connect to the Internet and, following Sonicwall documentation, have put one of my fixed IP addresses in the 'Specify IP Address' in the X2 interface.
After working through the Sonicwall documentation regarding setting up both Group VPN and the GVPN client I have a successful VPN tunnel between my client and the TZ670.
However, this only works if I use the dynamic IP allocated to the X2 interface in the peer list of the GVPN client
If I use the fixed IP address that I have specified in the X2 interface, in the peer list of the GVPN client the connection fails with "The peer is not responding to phase 1 ISAKMP requests"
If I look at the packet monitor I can see packets coming in from my client for port 500 that are being dropped.
I assume that I need to do some more setup, perhaps in Objects and / or Policies to allow the packets.
If my assumption is correct exactly how and what do I need to configure to allow the GVPN connection to work to the fixed IP?
My apologies for the long winded post but I wanted to be clear exactly how things were setup and what was / was not working so I'm not wasting peoples valuable time.
Many thanks.
Ian.
Reply