SonicOS 7.0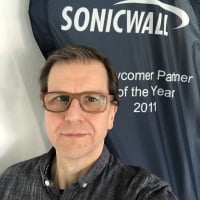 BWC
Cybersecurity Overlord ✭✭✭
Hi all,
finally I'am starting the first customer deployment of a TZ 670 and was facing an issue which has to be known. Because the lack of a public known issue list I opened a ticket for this issue, but this is a total unnecessary process for known bugs already reported.
Long story short, I'll post my sightings in this thread to maybe save others some time.
#43566630
SonicOS 7.0.0-R713
TZ 670

After every reboot the setting at Device/Settings/Administration 
"Failed login attempts before lockout" get reset to a value of 0 
which block the ability to save appliance settings.

This results "Invalid value entered for 'Failed login attempts before lockout'. 
Please enter between 1 to 99" everytime when it is not corrected before trying 
to apply any other Administration setting.

This is caused by the loss of the loginFailMaxRate Configuration value, 
which is correct in a exported configuration before the reboot, but the 
configuration after reboot has this value set to zero.

If this is something unwanted just make this post vanish.
--Michael@BWC
Category: Entry Level Firewalls
Reply