SMA 500v - losing license information (10.2.0.2)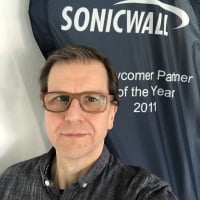 BWC
Cybersecurity Overlord ✭✭✭
Hi,
from time to time several customers facing the issues that SMA 500v is losing it's license information and no user can log into the appliance any more. A restart of the SMA 500v fixes the issue, a manual license sync does not.
I couldn't found any pattern, but internet connection and DNS resolver worked without trouble in the time of the outage.
I have syslog logging enabled and found these related log entries.
15 times over a 30 minutes period:
License Manager not responding. Restart may be necessary.

Until restarting the appliance:
License Manager not responding for an extended period. Licenses must be updated.

UPDATE:

Around one hour before the license complains I found these log entries which might be related?

Failed to setup detail log chain
Failed to setup IPQ chain
Failed to setup Botnet cache chain
Failed to setup GeoIP chain
Failed to setup Botnet chain
Failed to setup Default Allow chain

Anything we can do to have this working more stable, because SMA outages are not welcome these times.
--Michael@BWC
Category: Secure Mobile Access Appliances
Reply